Our History
Tall Timbers' history is represented in two timelines using photos from our archives, and excerpts from The Legacy of a Red Hills Hunting Plantation: Tall Timbers Research Station & Land Conservancy, a history of Tall Timbers, and from more current newsletters and annual reports.
View timelines here.
The Red Hills Region is a 300,000-acre area located between Thomasville, Georgia and Tallahassee, Florida. Known for its rolling hills and red clay soils, the region is rich in biological diversity, historic resources, and scenic beauty. Often called the land between two rivers, the Red Hills Region is nestled between the scenic Ochlockonee and Aucilla Rivers. The region serves as a lifeline between coastal and northern wildlands. Natural, historical, and cultural wonders abound throughout the Red Hills.
The Wacissa Slave Canal
The Aucilla River watershed is a true natural treasure unlike any other in the Southeast. Tall Timbers, in partnership with private landowners and a wide range of local organizations, is working to conserve the watershed and maintain the natural values that attract paddlers, hikers, anglers, and hunters from throughout the country. This video, from our partners at the Aucilla Research Institute, highlights one small, but very impressive, piece of the watershed: the Wacissa Slave Canal.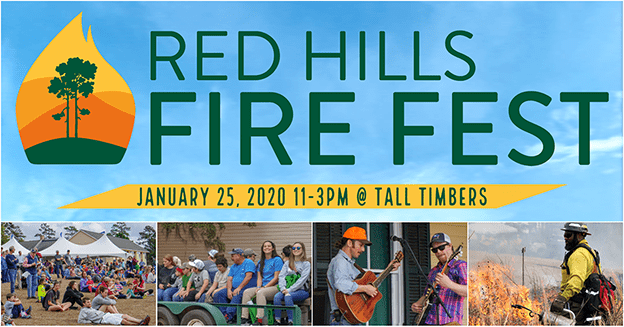 Red Hills Fire Festival
January 25, 2020 @ 11:00 am – 3:00 pm
Fire Festival is your chance to get outside and experience, enjoy, and learn about the natural role of fire in the Red Hills region. It's a free festival! It's a good time with live music, prescribed fire demos, live wildlife, wagon ride tours of healthy forests, hands-on fire equipment, kids' activities, and food vendors.
Rain date is February 1st. Click "going" or "interested" on the Facebook event to receive updates on the event, and don't forget to share it with your friends.
https://www.facebook.com/events/386652465216978/