ARCHIVES
For past issues of the Tall Timbers eNews, visit the eNews archives.
MAILING LIST
Tall Timbers eNews is a digital newsletter published quarterly. To receive email notice when there is a new issue Join Our Mailing List
Vol. 5 | No. 2 | April 2012
Air quality workshop hosted in Atlanta
By Dr. Kevin Robertson, Fire Ecology Program Director
On February 7, the Fire Ecology Program, along with Florida A&M University, hosted a workshop called the "Wildland Fire Particulate Matter Emission Factor Workshop" in Atlanta to bring together many of the best and brightest air quality experts from around the country to discuss how well we measure our emissions from prescribed burns and wildfires. There were 34 participants at the workshop and another 30 participated by webinar.
The focus of the workshop was on "emission factors", which are little known but very important numbers that tell us how much pollution (such as particulate matter in smoke) is created per fuel consumed during fires. They are used by air quality agencies to develop emissions inventories, which have a big influence on air quality policy as it relates to prescribed burning. Also presented and discussed were a wide range of related topics, including estimating area burned, fuel loads, and fuel consumption at state and national levels, which are also important to developing emissions inventories.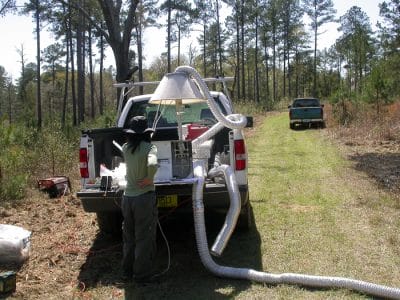 Glynnis Bugna (Florida A & M University) at left and Kevin Robertson (Tall Timbers), at right, measuring fire emissions on Tall Timbers Research Station. Photo by Timothy Molo.
One of the salient themes arising from the presentations and discussion was our relative lack of knowledge about how much organic soil (peat, muck) is consumed during fires, and how much particulate matter it produces. Fuel load maps have so far focused on surface fuels, such as vegetation and litter, and have largely neglected organic soil, which has to be monitored or modeled for water table fluctuation to know how much of it is available for consumption. Methods of estimating emission factors to date have also focused on surface fuel flaming combustion, while possibly missing the emissions that result from smoldering of organic soil and duff long after the flames have passed. Residual particulate matter from smoldering may also cause emission factors to be over-estimated using surface measurements because of accumulation of particulates close to the ground following fire.
It seems we have a lot to figure out, but the meeting and its upcoming summary document will steer us in the right direction for getting the right numbers on smoke produced from our fires.
ARCHIVES
For past issues of the Tall Timbers eNews, visit the eNews archives, visit the eNews archives.
MAILING LIST
Tall Timbers eNews is a digital newsletter published quarterly. To receive email notice when there is a new issue Join Our Mailing List