George Jensen, originally from Savannah, Georgia, lived most of his life in Wisconsin. George attended the University of Wisconsin, Stevens Point, where he studied Wildland Fire Science and Conservation Biology under Dr Ron Masters. During this time, George had heavy involvement in the UWSP interagency fire crew, where he was an officer for two years; George burned with the crew in Wisconsin, Oklahoma, Chicago, Florida, Georgia, and, South Carolina. George also worked for the federal government on a fuels module and helitack crew. Upon graduation, George took a job as a Conservation Biologist for the Endangered Resources section of the WNDR and as a Private lands biologist for the private sector. He was also on the state burn team. George attended graduate school at Mizzou under Dr. Ben Knapp. George worked his master's tenure at the Jones Center at Ichauway, where he researched how Resistance, Resilience, and Transition treatments affect fire behavior and effects in longleaf pine ecosystems during atypically hotter and drier days. He also studied fine-scale fire effects in patches of longleaf pine. Currently, George works for Tall Timbers as the Southwest Georgia Prescribed Burn Association Coordinator and is an Adjunct professor of ecology at Thomas University.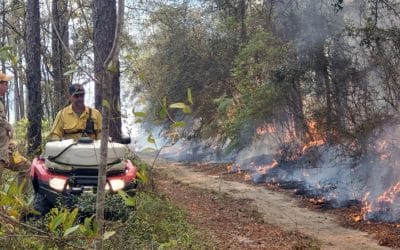 By George Jensen and John McGuire Tall Timbers, with support from NRCS: Working Lands for...
read more
By George Jensen, Eli Simonson, and Joe Noble Drones, or Unmanned Aircraft Systems, continue to...
read more