ARCHIVES
For past issues of the Tall Timbers eNews, visit the eNews archives.
MAILING LIST
Tall Timbers eNews is a digital newsletter published quarterly. To receive email notice when there is a new issue Join Our Mailing List
Vol 5 | No 3 | August 2012
What is the Economic Impact of the Red Hills Hunting Plantations?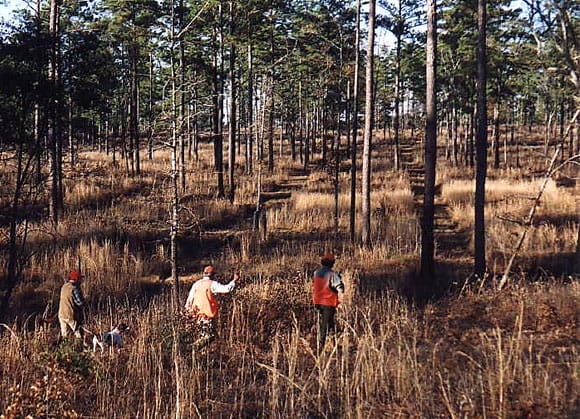 Hunting plantations are a major economic driver in the Red Hills.
An important part of protecting the rural character of the Red Hills region has been Tall Timbers' ability to demonstrate that these rural lands pay more than their fair share to support local services and infrastructure while also providing vital ecosystem services such as clean abundant water, fresh air, and wildlife habitat.
Increasingly however, the message that truly resonates with elected officials and others who make decisions affecting the Red Hills can be summed up in one word: "Jobs." While clean water and air is indispensable to everyday life, demonstrating the region's economic and job-related impacts on local communities is crucial during this difficult economic time.
Planning Coordinator Neil Fleckenstein is working on a project that will shed light on these important issues. This project will allow us to estimate the direct and indirect economic impact and job creation provided by Red Hills quail hunting properties. We believe this study will demonstrate what we have long known – that the Red Hills is a major driver of local economies and a significant contributor to the overall regional economy.
One of the first steps in the process is developing and distributing a survey that will be sent to landowners and land managers throughout the Red Hills. This survey is a critical part of this project and the primary means of gathering the information necessary to allow us to estimate the overall economic impact and job creation associated with the Red Hills hunting community. Red Hills landowner participation is crucial as we must obtain a high response rate to accurately estimate the overall economic impact of the region.
This project will play an important role in our continuing efforts to conserve the Red Hills and we would greatly appreciate your support of this effort. You will be hearing much more about this project in the coming weeks and months. Questions about this project can be directed to TTLC Planning Coordinator Neil Fleckenstein at 850-893-4153, ext. 335.
ARCHIVES
For past issues of the Tall Timbers eNews, visit the eNews archives, visit the eNews archives.
MAILING LIST
Tall Timbers eNews is a digital newsletter published quarterly. To receive email notice when there is a new issue Join Our Mailing List