It's not dodging trees and bouncing over rocks like mountain biking, and it's not flying down the open highway like road biking. This is clay road riding, and it may be the relaxing alternative you're looking for to get out and explore the Red Hills region on two wheels.
The spacing of pines in a forest managed with prescribed fire provides open views and ample sunlight that people in the Red Hills have enjoyed for generations. There is also a visual magic that occurs as you ride a bicycle at a casual speed down a clay road, and the conveyor belt of pines and historic landscapes glide by for your enjoyment with no window frame to contain them. The experience is punctuated as portions of the road close in tight around you with massive live oak trunks and thick canopy branches, only to open again with wide views of a southern pine forest under the careful stewardship of a thoughtful landowner.
"…increasingly I'm turning to the clay roads for
quiet, restorative rides…"
I enjoy the thrills of mountain biking and the extended traveling accessible on a road bike. However, increasingly I'm turning to the clay roads for quiet, restorative rides with friends and family. Recreational cruising by bike is not new to the clay roads of this region. Thomasville, Georgia was a big part of the bicycling craze of the 1890s.
The modern bicycle, or "safety bicycle," was introduced in the 1880s with two equal-sized wheels and a drive chain. This new invention made cycling more accessible, and it became the fashionably athletic way to travel and socialize in the Red Hills. The Ladies Cycling Club of Thomasville motto remains an appropriate call to action, "Come forth in the light of things. Let nature be your teacher."
This article provides some tips and ideas for connecting with the cycling heritage and natural resources of the Red Hills by getting out on your own clay road ride.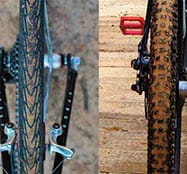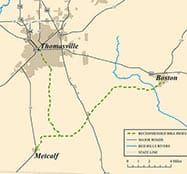 If you are buying your first new bike in years, or dusting off a trusted steed from deep in the garage, the car-free Orchard Pond Road Trail in Leon County is a good place to test your wheels on a short, safe clay ride. The 3.5-mile long clay road trail opened in 2016 after the Orchard Pond Parkway toll road was constructed to the north of the old clay road.
Now part of the extensive Leon County greenway system, Orchard Pond Road Trail includes parking access from Old Bainbridge Road on the west end, and Meridian Road via the Orchard Pond Parkway on the east end. With no worries of vehicular traffic, this is a nice place to test your skills and your bike on clay. However, be aware that clay can be slippery after a rain and the lack of vehicles repacking the clay may increase the dry time for this trail.
Road Condition and Bike Tires
Paying attention to the wet and dry cycle of clay roads is the most important factor in having an enjoyable experience on your bike. Too wet, the clay is a slippery mess. Too dry, the sand and dust drag you down and impact steering. However, the time between too-wet and too-dry is a blissfully smooth ribbon of packed red clay that delivers a quiet, easy ride. That's the goal.
As with most outdoor activities, the weather is a factor; not every time out is perfect, but when conditions are right, it's incredible. Paying attention to other local clay roads you drive on is a great way to predict riding conditions. Within a day or so after a rain, the tracks of cars and trucks become packed and ridable, providing thin paths between any remaining puddles. Cloudy plumes of dust rising behind cars are a sign that things are getting too dry for a comfortable ride.
The tread and width of your bicycle tires can help stretch the window of desirable riding. When conditions are good with clear packed trails of clay, I prefer a bike with a generally smooth tread and one, to one and a half inches in width. This provides for a fast and smooth ride that really lets you enjoy the clay when it is at its best. As conditions move to the wet or dry side of the desirable spectrum, I reach for a mountain bike with a knobby tread on tires of two inches or more in width. Knobby tread provides traction when dealing with wet slippery clay and greater width allows for lower tire pressure that helps you stay on top of dry sandy patches.
Located deep in the Red Hills, Metcalfe, Georgia is my favored launching point for exploring clay roads. Parking and restrooms are available at the Metcalfe Community Park on the south side of Beachton-Metcalfe Road, just east of John Street. After exploring this little rural town, pedal north on Haines Street, continue north on Horne Cemetery Road, then curve east onto New Hope Road.
New Hope Road and Millpond Road offer two great rides out of Metcalfe with midpoint rests in Thomasville or Boston, Georgia. The shorter route is to follow New Hope Road to the intersection with Millpond Road and head north. Millpond Road is a fantastic example of an unpaved antebellum road and includes two wood plank and steel girder bridges still used by hunting wagons to pass over the road.
The ride from Metcalf to Thomasville via Millpond Road is about 12.5-miles one way, completing your journey to downtown on Gordon Avenue. Budgeting around 90-minites for this one-way trip is a good plan for lunch time arrival in the foodie paradise of Downtown Thomasville. Matching bike rides with food destinations is a fun motivator and a great way to make your favorite dish taste even better. After refueling, don't forget to include some digestion time before the return ride on this 25-mile roundtrip.
If you are up for a longer ride, consider staying on New Hope Road for a journey to Boston, Georgia. This 32-mile round trip takes you down the oldest and longest intact antebellum roadway in Thomas County. First cut between 1830 and 1850, the road served as a direct route for farmers and planters to ship cotton from Thomas County through Tallahassee and on to the port of St. Marks.
From Metcalfe, stay on New Hope Road for 10.5 miles, then head east on Lower Boston Road and complete your voyage to Boston on Monticello Road as it turns into Washington Street. The bridge just north of the turn onto Monticello Road offers a peek at the upper portion of the Aucilla River. To enjoy a halfway point rest, turn north on Main Street and check out Boston's Main Street Café or the Buzzery, serving up pizza and mead.
If you are interested in longer clay road rides with more social opportunities, consider the Spaghetti 100 out of Miccosukee, Florida or the Dirty Pecan out of Monticello, Florida. The Spaghetti 100, hosted by Capital City Cyclists in early October each year, offers 40 and 60-mile dirt road options. The Dirty Pecan, sponsored by Bird Legs Bicycles in early March, serves up epic options of 60, 100, and 150-miles. Organized rides are a great way to meet other people who love clay roads, get tips on new areas to explore, and accept the challenge of going a little farther.
Exploring the Red Hill's network of public clay roads is a special way to connect with this unique American landscape that supports irreplaceable ecological resources, sustainable local economies, and a rich culture, providing a distinctive sense of place for the people of the region.
Please be respectful of the private properties viewed from these roads
. The stewardship of area landowners has protected these lands as open space, enhanced habitat for declining wildlife species, and provided clean water for our aquifer, lakes, and rivers.
Tall Timbers has taken a leadership role in working to establish a Scenic Roads Program for Thomas County, Georgia, and designating New Hope, Millpond, Glasgow, and Twelve-Mile Post Roads to the program. In Leon County, Florida, Tall Timbers succeeded in getting Sunny Hill Road, Old Centerville Road, and Pisgah Church Road designated as official Canopy Roads protected by local ordinance. These scenic roads will continue to provide recreational opportunities and connections to natural and historical resources.
If you are already out there enjoying the clay roads by bike and would like to share your favorite routes, please contact us. We would love to continue highlighting ride opportunities that get people outside and connecting with the great resources of the Red Hills.