Facilitating data collection and bobwhite analytics
Record keeping is important to evaluate the effectiveness of management practices as well as in understanding how factors such as weather contribute to vegetation response and management. Data collection, in particular, and the analysis, viewing and archiving of data is an integral part in facilitating adaptive resource management, and can help to guide management decisions.
Rapid advances in technology now offer numerous options for electronic data collection and storage. A goal of the Game Bird Program is to tap into the map world by developing products such as web mapping applications and data collection applications for land owners and managers.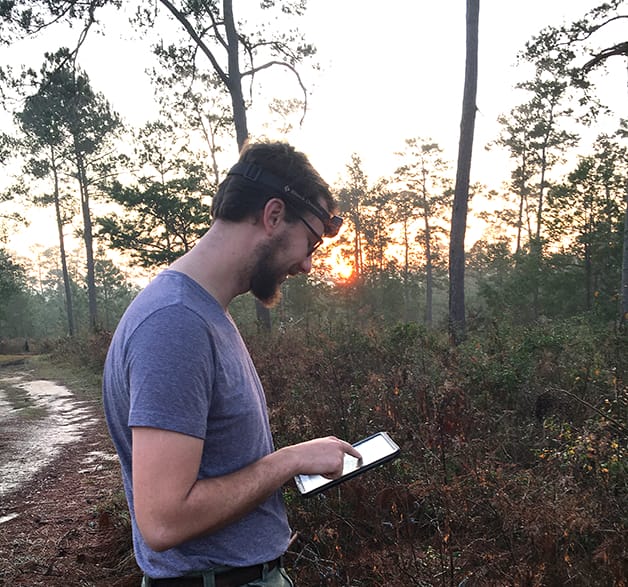 Data collection during an early morning covey call
Property Maps & Web Apps – A Clear View Ahead
Did you know that ~80% of data now has a geographic location component? Maps not only display land cover features but they help to better visualize complex patterns in data and add vital spatial context that often gets lost in spreadsheets and charts. The integration of dynamic mapping can improve our insight, facilitating better decisions.
Web apps and mobile mapping apps are more than a glorified Garmin for the woods. They contain several powerful features and time-saving shortcuts that may not always be obvious, but are just waiting to be discovered. From basic land cover maps to more sophisticated web mapping applications, we can help you map your property and link the data you collect to facilitate on-the-ground management decisions. Contact us for more information.
Tall Timbers Land Cover Map
Map of brood locations showing link to fields on this property
Covey call point count map