ARCHIVES
For past issues of the Tall Timbers eNews, visit the eNews archives.
MAILING LIST
Tall Timbers eNews is a digital newsletter published quarterly. To receive email notice when there is a new issue Join Our Mailing List
Vol 5 | No 3 | August 2012
Midsummer update on quail hatch
By Bill Palmer, Director of Research
We compare midsummer (July 15) demographics among years to provide our first dependable indication of where quail populations are headed for the fall. Bumper hatches of quail occur when we have a very strong early hatch, often followed by a moderate late hatch. This year, with mild winter weather and an early spring, nesting began weeks earlier than normal and have continued relatively strong through July. Here are the results for our study areas in Florida and Georgia.
Albany Hatch Improved over Past Years
Below is a graph (Figure 1) showing the average for the last 10 years for 48% of nests and 27% broods produced per 100 radio-tagged hens as well as 53% summer survival of these birds. Quail demographics on the Albany Quail Project study area are above the 10-year average in all categories and are well above figures from this time last year. Indications are that chick survival is very good as brood sizes have remained large. Improvements are due to improved weather conditions combined with some management modifications on our study areas.
Figure 1. Mid-summer hatch statistics on the Albany Quail Project study site relative to the last five years.
Mild winter weather across the country resulted in fewer than normal migratory hawks and improved overwinter survival of quail. Nesting began early and weather was ideal during much of the early nesting season. Conservative burning and mowing, fertilization of weed fields, and adequate spring rains provided good cover conditions during covey break up and the onset of nesting season. Care was taken to keep supplemental feed in the best cover possible, even if this meant moving the feed trail. All these efforts combined helped improve the summer survival of adult nesters, which is what drives the reproductive output. Yet to be seen is what role cotton rat numbers may be playing in this increase, as we will not do our surveys until late August.
Hopefully, the weather will continue to cooperate for the remaining summer months and populations will be able to recover from last year's drought impacted numbers. We have seen a recent increase in nesting during late July. The first half of the nesting season was excellent but we need a strong late hatch to go with it to see the kind of recovery we are hoping for.
Tall Timbers Hatch Improves over 2010 and 2011
The first half of the nesting season has been a good one. Nesting and adult survival continue to be strong as they have been over the past several years. The main difference in productivity is an increase in nesting success from last year (27%) to this year (68%) and much improved survival of chicks through the first two weeks post-hatch.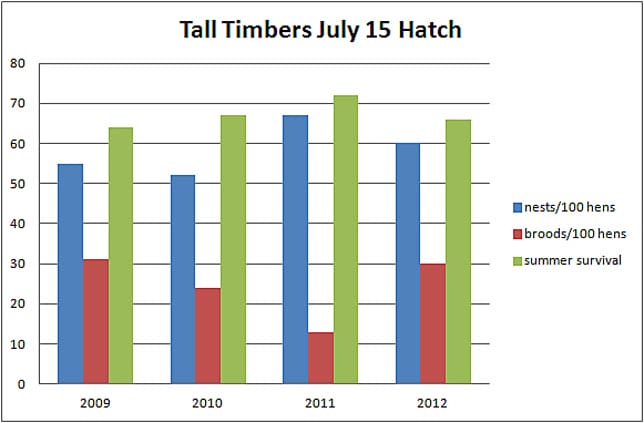 Figure 2. Mid-summer hatch statistics on Tall Timbers Research Station relative to the last five years.
Nesting success has increased over last year likely due to increased alternative prey and food items (Figure 2).Rodent numbers were very low last year during the drought, as were blackberries, another staple for omnivorous predators, providing fewer food items for the predator population.Cotton rats have made a surprising rebound this year likely offsetting some predation on adult quail and their nests. Our long-term study shows a direct correlation between cotton rat numbers and nesting success.
The Game Bird Lab, led by biologist Bud Bostick, has captured and banded 188, 8-day old chicks thus far. Nesting seasons, in which we have captured over 200 chicks, based on about the same number of radio-tagged hens, have been years in which our quail population on Tall Timbers increased, and the Red Hills observed above average hunting success. Other positive signs include steady nesting, large number of male incubated nests, and good adult survival. Nearly a quarter of male bobwhites have hatched a nest this year! Of the 188 chicks banded, 52 came from male incubated nests! Collectively, the wild quail demographic machine is on full steam ahead. Hopefully, August through September will bring fair weather as a late hatch on top of our base would make for a significant increase this year.
Male bobwhite incubates a nest. Photo by Bud Bostick
We are in our last year of feeding at 3 treatment levels (0.5, 1 and 2 bushels per acre per year) on Tall Timbers. The differences this year indicate the highest productivity at the 1 and 2 bushels per acre per year level, with 0.49 and 0.78 nests produced per hen, respectively, versus 0.44 nests produced per hen, for the 0.5 bushel per acre per year treatment. So, even in a fantastic weather year, the direct relationship among level of spreading supplemental feed and quail productivity continues to hold. Careful use and management of a supplemental feeding program appears to improve quail production in areas of good habitat.
South Carolina Report
Monitoring radio-tagged hens in South Carolina indicates reproductive output has been similar to the past two years. Managers report seeing good numbers of broods; and we saw good nest production in early May, but nesting success was relatively low, resulting in somewhat lower broods per hen this year compared to past years (see graph). We suspect greater depredation of nests was a result of lower cover in nesting areas due to last summer's drought. However, since about mid-May, nest success has increased and brood production is increasing.
Comparing the reproductive output of radio-tagged hens to last summer, we are slightly behind in the number of broods produced per 100 hens, but better than 2009 and 2010 (Figure 3). With most of the low county seeing plenty of rainfall in June and July, the cover has responded well in both the brood fields and burned woods. This should help with increased brood survival, which in turn should mean very good fall bobwhite populations. We have had good adult survival this summer, which puts us in a great position for a good late hatch, as long as the weather stays favorable through September. It's too early to say whether we will have more birds this season than last, but with a little luck we should have just as many.
Figure 3. Mid-summer hatch statistics on South Carolina Quail Project study site relative to the last five years.
ARCHIVES
For past issues of the Tall Timbers eNews, visit the eNews archives, visit the eNews archives.
MAILING LIST
Tall Timbers eNews is a digital newsletter published quarterly. To receive email notice when there is a new issue Join Our Mailing List