ARCHIVES
For past issues of the Tall Timbers eNews, visit the eNews archives.
MAILING LIST
Tall Timbers eNews is a digital newsletter published quarterly. To receive email notice when there is a new issue Join Our Mailing List
Fall/Winter 2021 | Vol 14 | No 3
Tall Timbers' 24th Annual Kate Ireland Memorial Auction & Dinner Honored Tom Rankin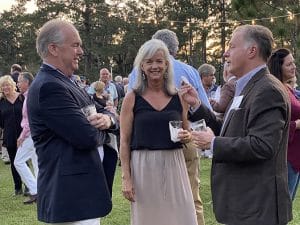 The 24th Annual Kate Ireland Memorial Dinner & Auction was held Thursday evening, October 14, 2021 at Tall Timbers' headquarters in Tallahassee, Florida. The event honored long-time Tall Timbers' Trustee Tom Rankin. It was a sell-out event, with over 400 in attendance.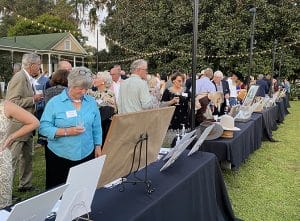 Festivities included a cocktail reception, silent and live auction, and dinner served under a huge tent overlooking Lake Iamonia. The auction featured a compelling collection of world class artwork, unparalleled hunting and fishing opportunities, vacation getaways, and unique offerings from the Red Hills region and beyond.
Tom Rankin was honored as a true steward of the Red Hills. His family and many friends were on hand to hear current Board Chairman George Simmons provided a humorous "roast" of Tom. But George also shared that Tom has supported Tall Timbers for over 30 years. Tom first became a Tall Timbers' member in 1988, and served on the Board of Trustees since 2005. He guided the organization through an important period of growth as Chairman of the Board for the past six years.
Tom's approach to managing is "hands-on," and he has taken this same approach as a Tall Timbers' Board member. With a depth of business experience, he asks the hard questions, challenges our thinking, and then supports us. When the Red Hills that he cherishes was under threat from an unnecessary toll road set to run into Jefferson County, Tom dove in as a leader and team member for our outreach and education efforts to successfully repeal the legislation.
We are grateful that Tom has brought his stewardship ethic to both the land of the Red Hills and to the Tall Timbers organization. He is leaving his own fingerprints on the Red Hills and will be appreciated by all of us for years to come.
And, we thank the many sponsors who made this event honoring Tom Rankin possible and the guests who attended and supported Tall Timbers' mission by generously bidding on the silent and live auction items. We really appreciate your support!
Auction Photo Gallery
ARCHIVES
For past issues of the Tall Timbers eNews, visit the eNews archives, visit the eNews archives.
MAILING LIST
Tall Timbers eNews is a digital newsletter published quarterly. To receive email notice when there is a new issue Join Our Mailing List