ARCHIVES
For past issues of the Tall Timbers eNews, visit the eNews archives.
MAILING LIST
Tall Timbers eNews is a digital newsletter published quarterly. To receive email notice when there is a new issue Join Our Mailing List
Spring 2018 | Vol 11 | No 2
Dixie Ladies Luncheon hosted by Tall Timbers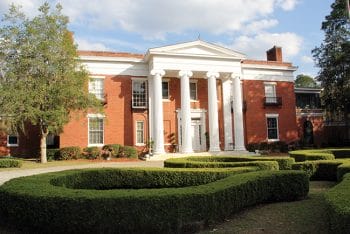 Tall Timbers hosted its first Dixie Ladies Luncheon, Wednesday, March 28, in support of the Phase III interior rehabilitation of the Dixie Mansion. The luncheon was held in the dining room at historic Dixie Mansion. The Dixie Mansion was designed in 1936 by acclaimed architect John Russell Pope, who also designed the Jefferson Memorial and the National Gallery of Art on the Washington Mall. Dixie is his only building designed and constructed in Florida. A beautiful Live Oak allee leads to the stunning 14,200-sq. ft. Neo-Classical Revival country house with its massive two-story Ionic columned portico.
We were honored to have Florida's First Lady Ann Scott join us as our keynote speaker. The First Lady thanked Tall Timbers for taking on the task of restoring part of Florida's history. The luncheon served as the unveiling of the work completed for Phases I and II rehabilitation — thanks to funding from Florida Department of State Special Category grants — and the needs to be met for Phase III. Phase III interior rehabilitation needs include:
Historic woodwork & floor repair/refinishing, interior surface repainting
Plumbing upgrades
Lead paint & asbestos abatement
 Kitchen upgrade
Life safety and code compliance  upgrades: 2nd floor fire exit, 1st floor accessible bathroom, and fire alarm system
Once the final phase is completed, the beautifully restored Dixie Mansion will serve as an important social and educational center, hosting scientific seminars, conferences,and civic programs.
To help, contact Crystal Davis: 850.893.4153, x343 or email Crystal.
After lunch, the guests were given a tour of the mansion. Photos by Rose Rodriguez
ARCHIVES
For past issues of the Tall Timbers eNews, visit the eNews archives, visit the eNews archives.
MAILING LIST
Tall Timbers eNews is a digital newsletter published quarterly. To receive email notice when there is a new issue Join Our Mailing List