ARCHIVES
For past issues of the Tall Timbers eNews, visit the eNews archives.
MAILING LIST
Tall Timbers eNews is a digital newsletter published quarterly. To receive email notice when there is a new issue Join Our Mailing List
Vol 6 | No 1 | February 2013
Tall Timbers 2013 Naturalists' Ball Honors Lane Green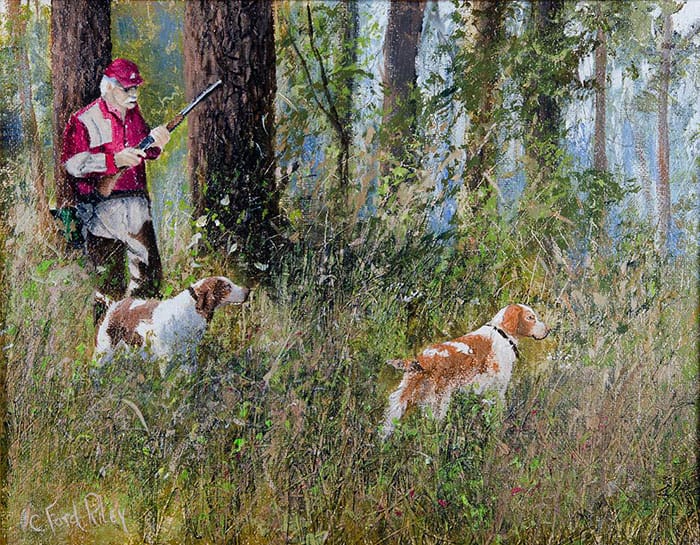 Painting of Lane Green with Brittany spaniels by C. Ford Riley was given to Lane as retirement gift by Tall Timbers staff; it was used for the cover of the Naturalists' Ball invitations.
At the 2013 Naturalists' Ball held on Saturday, February 16, the Tall Timbers Board of Trustees honored Lane Green for his 22 years of service as Executive Director of Tall Timbers Research Station & Land Conservancy and the Tall Timbers Foundation. Lane retired in December 2012 to pursue his passions: time with family, hunting, travel, playing baseball and managing his family land.
The Naturalists' Ball was held at Glen Arven Country Club in Thomasville, Georgia; 190 guests enjoyed dinner and dancing at this black tie event. Tallahassee band, Tom and the Cats, played Lane's favorites, as he and his wife Susan, as well as family, friends, Tall Timbers staff and well-wishers danced the night away.
Naturalists' Ball Album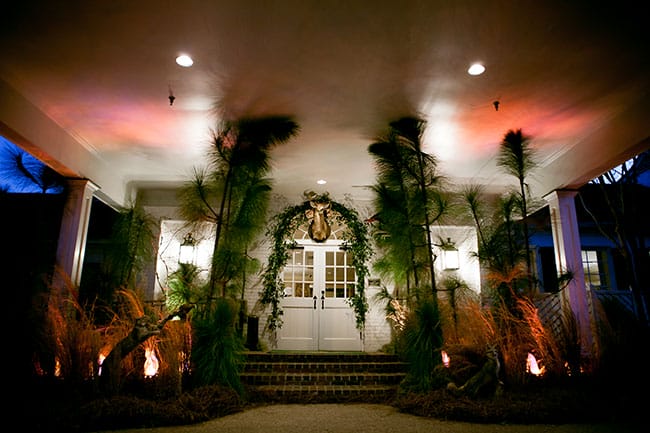 The entrance to Glen Arven Country Club was decorated with a prescribed fire theme in honor of Lane Green, our regional "fire evangelist."
Lane and Smokey," toe to toe."
From left to right, Lane Green, Cornelia Corbett, Smokey, Dick Corbett, Cyndi and George Watkins.
Lane, center, reveals his Tom and the Cats (name of the band that played) t-shirt under his tux. Band member, Richard Bevis is at left, Dick Corbett at right.
A good time was had by all, especially Lane.
ARCHIVES
For past issues of the Tall Timbers eNews, visit the eNews archives, visit the eNews archives.
MAILING LIST
Tall Timbers eNews is a digital newsletter published quarterly. To receive email notice when there is a new issue Join Our Mailing List