ARCHIVES
For past issues of the Tall Timbers eNews, visit the eNews archives.
MAILING LIST
Tall Timbers eNews is a digital newsletter published quarterly. To receive email notice when there is a new issue Join Our Mailing List
Vol. 4 | No. 6 | December 2011
Tall Timbers staff leads 2011 Ochlockonee River Clean-up
By Neil Fleckenstein, TTLC Planning Coordinator
2011 marked the 10th year that Tall Timbers Land Conservancy (TTLC) staff have participated in the annual Ochlockonee River Clean-up held in Thomas County, Georgia. The TTLC has helped coordinate the last seven events, which have become highly popular with the public. This year approximately 100 volunteers, many of them kids from local schools, joined Tall Timbers, Hands on Thomas County, and Keep Thomas County Beautiful in making this event a great success.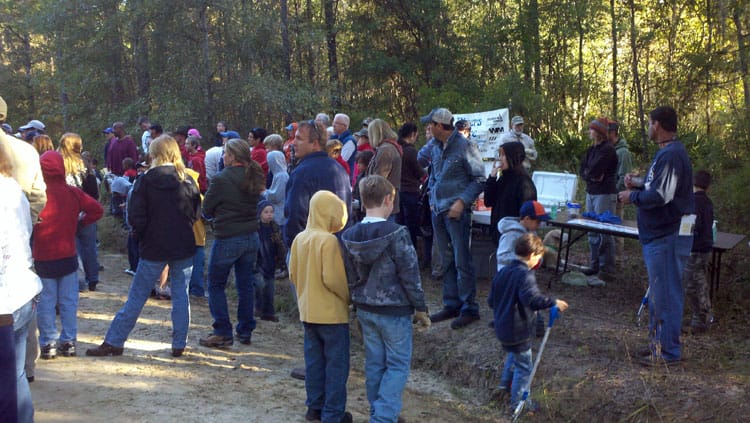 TTLC staff Kevin McGorty, Shane Wellendorf, and Kim Sash provided outstanding support to organizer Neil Fleckenstein throughout the event. Kevin served as the event photographer. Shane rolled up his sleeves and helped Neil and volunteer David Burke sort trash and recyclable materials. Meanwhile, Kim braved teaming hordes of children as she and Pierson Hill brought a variety of snakes with them for show and tell. Never one to miss a chance to support a good cause, former TTLC administrative assistant Ofelia Sivyer showed up bright and early to help with the event.
Of course, cleaning up the Ochlockonee River is the primary focus of this event. Volunteers from all corners of the community, including Boy Scouts and Girl Scouts, school groups, and folks who just wanted to help, descended upon the broad floodplain of the Ochlockonee River near US 19 north of Thomasville (and a second site the day before the "Official" Clean-up). Volunteers removed hundreds of pounds of recyclable materials, such as glass and plastic bottles and aluminum cans as well as an assortment of car and truck tires, and a wide array of items that we will categorize using the highly technical term, "garbage."
At the end of the day, approximately 1,800 pounds of trash and recyclables were removed. The most common item collected – discarded beer bottles – with Budweiser trouncing Busch in landslide. The most unusual item found? This was an easy call as a local Boy Scout found a pair of coconuts under an oak tree in the woods adjacent to the river.
This has proven to be one of the most popular volunteer events in Thomas County. The Ochlockonee River Clean-up has helped create community awareness and involvement in the preservation of local water resources among hundreds of people, many of them kids and young adults. This event has also provided an opportunity for the public to become more familiar with the work that Tall Timbers does to protect the natural resources of the Red Hills region.
For additional information about the Ochlockonee River Clean-up, contact Neil Fleckenstein, TTLC Planning Coordinator at 850-893-4153, ext. 335.
ARCHIVES
For past issues of the Tall Timbers eNews, visit the eNews archives, visit the eNews archives.
MAILING LIST
Tall Timbers eNews is a digital newsletter published quarterly. To receive email notice when there is a new issue Join Our Mailing List