ARCHIVES
For past issues of the Tall Timbers eNews, visit the eNews archives.
MAILING LIST
Tall Timbers eNews is a digital newsletter published quarterly. To receive email notice when there is a new issue Join Our Mailing List
Vol 6 | No 1 | February 2013
The burning question: when to burn or why?
Prescribed fire is a safe way to apply a natural process, ensure ecosystem health and reduce wildfire risk.
By Eric Staller, Tall Timbers Natural Resources Coordinator
When do I burn is a common question, but the real question is why am I burning? Winter burns, spring burns and summer burns are all important depending on your objectives and habitat types. Objectives and habitat types will not only determine when to burn, but also fire frequency, size and scale. Typical objective categories include: silvicultural, wildlife management, and fuel reduction.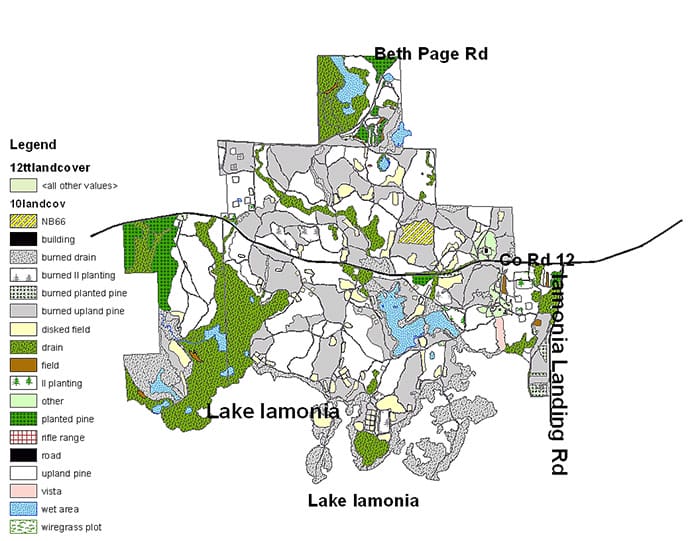 When wildlife management is your objective, fire frequency, size and scale are very important. At Tall Timbers we burn approximately 60% of the uplands each year in a mosaic pattern.
Fall and winter burns tend to be cooler, and wind direction tends to be more consistent throughout the day. Silvicultural objectives include site preparation for planting pines or to catch natural regeneration; a clean burn will allow sunlight to reach the seedlings, and seed to soil contact. Burning through pine plantations, particularly young pines, and fuel reduction are a few others.
Winter burns are often used for fuel reduction — to burn through drains and hammocks prior to leaf out. However, from a wildlife management or ecological perspective, spring and summer burns are much better. Winter burns will stay "black" until bud break or spring green up, which in the southeast is around the beginning of March; black or bare ground has a higher chance of eroding and is unsuitable habitat for wildlife.
When burning after spring green up, the ground cover will recover quickly, and become useable space for wildlife.
One month post burn on old field land shows regrowth.
To achieve wildlife management and ground cover objectives on old field lands, (land that at some time had previously been tilled for agriculture), spring is a better time to burn. The end of February through mid-May is typically good spring burning weather. By the latter part of May, however, relative humidity in the southeast begins to climb too high for clean burns on old field lands.
Spring and summer burning are very important for native uplands, those lands that have not been previously tilled. Many of the native plant species, such as wiregrass, evolved with frequent fire and need the growing season burns to produce viable seed. With regard to wildlife, the nests of ground nesting birds such as quail and Bachman's sparrows may be burned in the summer, these species readily re-nest, and the summer burns will become great brooding habitat for the latter hatched broods. Also, for hunting, later burning improves the structure of native vegetation or areas dominated by grasses by reducing thick cover.
Burning in late spring and summer is the best time for hardwood control, as the saplings have moved resources from the root system to above ground. Top killing them at this time will lower the resources needed to re-sprout and the length of the growing season to replenish.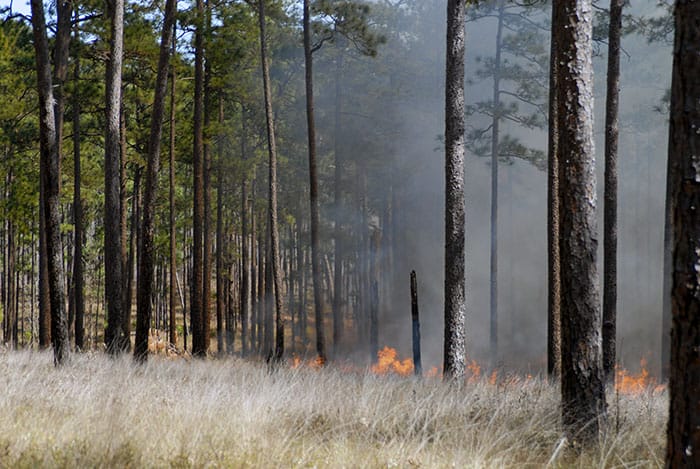 Growing season burns are important for many plant species, such as wire grass, to produce viable seed.
Prescribed fire is the most important land management tool; economically, ecologically, and for wildlife management, there is no substitute. Determine your objectives and habitat types and burn accordingly. Most managers will need to use all seasons of burning to meet all their objectives.
Finally, always remember to manage your smoke whenever you burn; it's your smoke until it reaches the mixing height.
Managing your smoke is incredibly important in protecting our right to burn. Dispersion index, mixing height, and wind direction will determine good smoke management.
ARCHIVES
For past issues of the Tall Timbers eNews, visit the eNews archives, visit the eNews archives.
MAILING LIST
Tall Timbers eNews is a digital newsletter published quarterly. To receive email notice when there is a new issue Join Our Mailing List