ARCHIVES
For past issues of the Tall Timbers eNews, visit the eNews archives.
MAILING LIST
Tall Timbers eNews is a digital newsletter published quarterly. To receive email notice when there is a new issue Join Our Mailing List
Vol 5 | No 4 | November 2012
The Quail Hatch is much improved in 2012
The 2012 quail hatch in the Albany area and Red Hills was much improved over last year when we were in the middle of a record drought! It all started with a mild winter which kept migratory hawk numbers below normal and overwinter quail survival above normal. This, along with relatively light harvests last year, resulted in a good carry-over of birds from the fall population. Good adult survival combined with an early spring and adequate rainfall got the nesting season off early with the first nests hatching in early May and our latest nests hatching in mid-October. Weather conditions were nearly ideal in the Albany Area all summer and similarly in the Red Hills, except for excessive rainfall associated with Tropical Strom Debbie in July.
The resulting hatch was impressive. On Tall Timbers areas, 68 nests hatched for every 100 hens entering the season! This is 57% greater than in 2011 and above our long-term average (Figure 1). Our hatch was very similar to that of 2009 which was an outstanding quail year in the Red Hills. In Albany, nesting and hatches per hen were up 30% over last year and well over the long-term average (Figure 2). While judging population changes from one demographic parameter can be unreliable, when nesting season length, nesting rates, nesting success, adult and chick survival are at or above long-term averages, population increases are likely!
Figure 1. Number of broods hatched per 100 hens and cock birds on our fed sites on Tall Timbers.
Figure 2. Number of nests and broods per 100 hens entering the nesting season shows an increasing trend in chick production.
We completed covey call counts on our study areas and other properties. In Albany, call counts are revealing populations making a strong recovery from last year with solid increases in the number of coveys and large covey sizes. On Tall Timbers our population was 37% greater this year than last year (Figure 3). Similar increases have been observed in covey call counts on plantation properties. Overall, we are predicting populations our study populations have increased by 30% and perhaps more. Through sound management, including habitat, supplemental feeding, predation management, and modest harvest rates combined with nearly ideal weather, our populations appear to have rebounded from the worst drought on record in 2011. The importance of each of these practices cannot be overstated to maintaining bobwhite populations through time.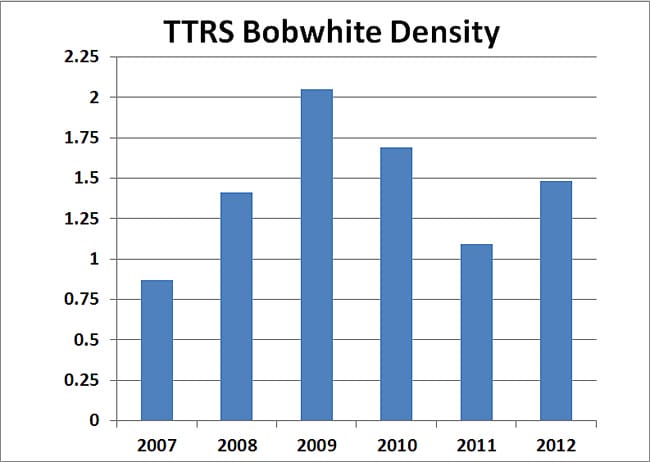 Autumn bobwhite densities on Tall Timbers 2007-2012.
At present the combination of heavy cover, a preponderance of young birds and very dry conditions are moderating the numbers seen during pre-season woods work and dog training. Dry weather is common this time of year, but the long-term forecast is predicting a cooler than normal and wetter than normal winter, which should improve covey finds this season over last.
ARCHIVES
For past issues of the Tall Timbers eNews, visit the eNews archives, visit the eNews archives.
MAILING LIST
Tall Timbers eNews is a digital newsletter published quarterly. To receive email notice when there is a new issue Join Our Mailing List