ARCHIVES
For past issues of the Tall Timbers eNews, visit the eNews archives.
MAILING LIST
Tall Timbers eNews is a digital newsletter published quarterly. To receive email notice when there is a new issue Join Our Mailing List
Spring 2015 | Vol 8 | No 2
Bringing an Underground Robotic Gopher Tortoise Scope to Life
The Tale of the GT Cruiser
Biologists often refer to gopher tortoises as ecosystem engineers. They provide a borrow averaging up to 15 feet in length that up to 350 different species, including insects, birds, reptiles and amphibians, have been documented to use as a refuge. These burrows offer safe havens by providing warmer, safe places in winter and cooler, humid conditions in the summer. The burrows have also been documented to offer refuge for a quail to avoid an avian predator, or a lizard to escape a prescribed fire. This species is also currently listed as a candidate for Federal listing in our portion of its range. Showing that tortoises are doing fine in the Red Hills, and elsewhere in Florida and Georgia, may help preclude their listing as an endangered species. For these reasons, a gopher tortoise survey crew led by Rebecca Zeroth has been out counting gopher tortoises in the Red Hills. As part of the survey, the crew needs to scope every burrow found in order to count tortoises within. Often a gopher tortoise will use multiple burrows, so counting just burrows would lead to an inflated and inaccurate count of tortoises. So for the rest of the summer and into the fall, Rebecca and her crew will be scoping burrows and counting tortoises.
We currently use a "scope" or a stiff hose with a camera mounted on the end that is fed down the borrows, so we can document if a gopher tortoise is inside. This process works fairly well, but the scopes are cumbersome to manipulate and the process can be physically arduous and time consuming. For a long time, I've had the dream of building a robot scope. Something sleek and quick that could crawl down a gopher tortoise burrow with a mounted camera and would reveal which creatures call that burrow home. I saw the chance to turn this dream into reality when I heard about a professor at FSU, Dr. Jonathan Clark, who builds robots. I decided to contact Dr. Clark to see if he would like to collaborate on a project to build a robotic gopher tortoise scope.
Dr. Clark suggested that this would be a great idea for a FAMU-FSU College of Engineering Senior Design Project. With an industry problem to solve and a bit of financing, the seniors at the engineering school will design and build your dream project. Teams of students choose from a list of potential projects—this year there were 31 total—which included a pedibus, a rotocraft, a solar desalinator, and even a palm fruit harvester. Some of these projects, like those sponsored by NASA, have huge budgets, while others serve niche industries with more limited budgets. The teams of students work on their chosen project for their entire senior year.
Tall Timbers sponsored six students: four mechanical engineers and two electrical engineers. Most of these students had never seen a gopher tortoise before, let alone a gopher tortoise burrow. We started off by scoping a few burrows on Tall Timbers, so they could get a feel for the inside of a burrow and the kind of terrain the robot would have to crawl over, under, and inside. The students then continued to work on the project and have given several midterm presentations. As their sponsor, Tall Timbers was invited to attend these presentations. I could not have been more impressed with the students, their creativity, passion, and intelligence gave me hope for future generations.
As the semester is winding down, the "GT Cruiser" (I told you they were creative!) has become a reality. While it is still in development and has some kinks to be worked out, the project has become more than just building a gopher tortoise robot scope. I've gotten to know these students, admired the work they can do, and have been inspired by their passion and ambition. Little did I know that the gopher tortoise, an ecosystem engineer, would help me to meet some great future engineers who will undoubtedly become successful members of society.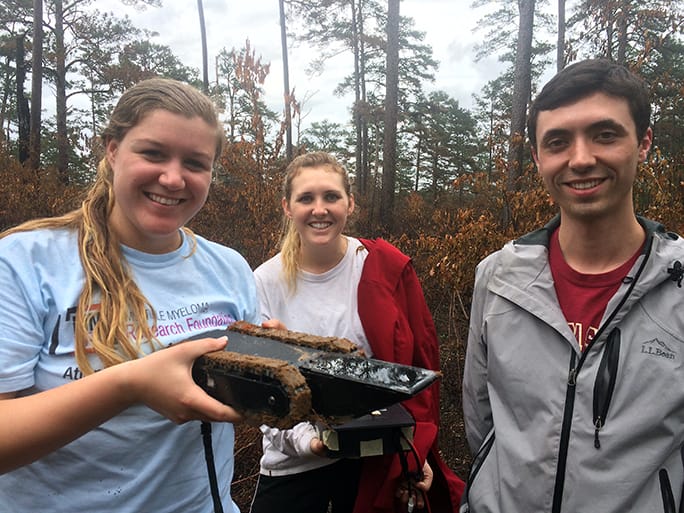 Field testing the GT cruiser; left to right: Jane Bartley, Bridget Leen, Colin Riley
ARCHIVES
For past issues of the Tall Timbers eNews, visit the eNews archives, visit the eNews archives.
MAILING LIST
Tall Timbers eNews is a digital newsletter published quarterly. To receive email notice when there is a new issue Join Our Mailing List