ARCHIVES
For past issues of the Tall Timbers eNews, visit the eNews archives.
MAILING LIST
Tall Timbers eNews is a digital newsletter published quarterly. To receive email notice when there is a new issue Join Our Mailing List
Winter 2018 | Vol 11 | No 1
Yes, early bobwhite calls heard

Mid-to-late February typically results in a prevalence of wild flushes and running coveys, but this year male birds are already tuning their vocal chords. Yes, that's right, we have already heard bobwhite calling activity here at Tall Timbers, along with reports from several managers in the Red Hills region indicating the same. What does this mean?
Although it is common knowledge that the bob-white call is used to attract mates, this early calling behavior does not necessarily signal the onset of breeding season. However, with global warming or climate change at the forefront of many minds, one might argue that the breeding season window is expanding at both ends—starting earlier and ending later. Historically, sporadic calling activity often begins as early as April and ramps up from there with the peak calling occurring typically in May and early June. Spring call counts can provide an index of the breeding "capital" during early spring and can also generally serve as a barometer for breeding success such that more calling often indicates more bachelor males, which implies more females sitting on nests. Our previous research has demonstrated that bob-white calling activity is most informative when identifying the peak of calling in May/June, which correlates strongly with fall abundance. In addition, distinct peaks and valleys in calling often indicate synchronized nesting and hatching (see Figure 1), respectively, but continuous calling (a plateau with not much cyclicity; see Figure 2) or erratic, rapid fluctuation in calling behavior often indicates irregular hatching caused by nest depredation followed by mating and re-nesting. However, history shows that bobwhite calling in February and March is typically sporadic and short-lived – often cold snaps in March stymie the males' desires to get the breeding show on the road and birds remain in covey groups until spring break-up dictated by an extended photoperiod.
Figure 1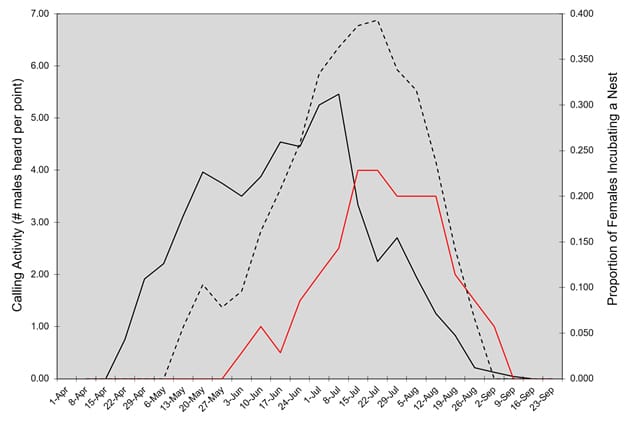 Figure 2
ARCHIVES
For past issues of the Tall Timbers eNews, visit the eNews archives, visit the eNews archives.
MAILING LIST
Tall Timbers eNews is a digital newsletter published quarterly. To receive email notice when there is a new issue Join Our Mailing List