Native Plant Communities and Populations
The Fire Ecology Program pursues research to understand the natural history, composition, and ecological function of native plant communities in the southeastern U.S. Coastal Plain. Research includes:
Classification of fire-dependent pine plant communities;
Patterns of plant species composition and longleaf pine demographics on the Wade Tract
old-growth longleaf pine preserve and other sites;
Population biology of individual herbaceous species in the context of frequent fire;
Community dynamics of beech-magnolia forest communities studied at Woodyard Hammock long-term study on Tall Timbers Research Station.
Fire Ecology Program staff curate the Robert Godfrey Herbarium and maintain the Coastal Plain Plants on-line plant life history database.
Sustainable Land Management
Fire Ecology Program research emphasizes conservation of native plant communities, wildlife habitat, and ecosystem processes and seeks to understand effects of land management decisions on their stability and restoration. Areas of research include:
Effects of fire return interval on plant community composition, population dynamics, woody plant resprouting, and soil microbial and chemical composition;
Soil disturbance effects on native plant and microbial communities and their post-disturbance recovery;
Ecosystem services provided by pine savanna restoration;
Causes and effects of patchy burning;
History of human and lightning-initiated fire, as a member of the Southeastern Coastal Plain
Tree-Ring Laboratory.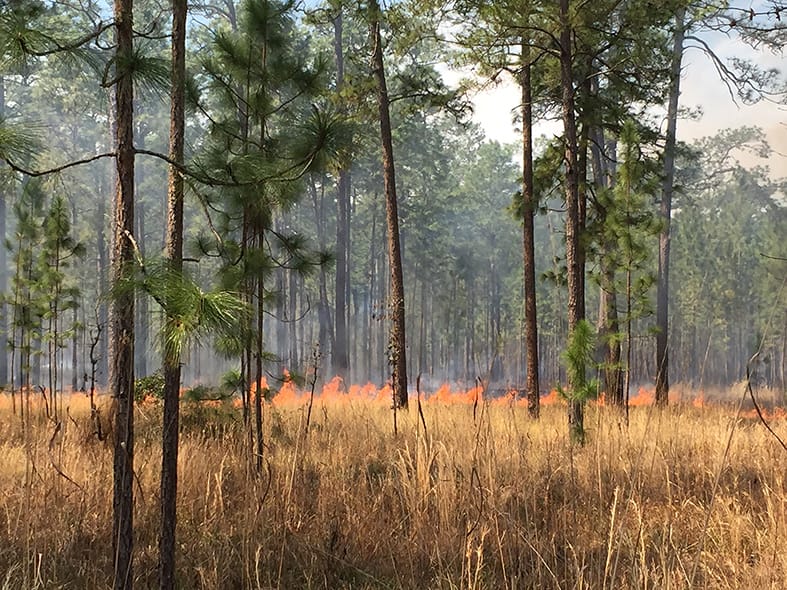 Prescribed fire on the Wade Tract old-growth longleaf pine forest preserve.