Suncoast Connector
Toll Road Threatens
Red Hills & Big Bend
Tall Timbers opposes the construction of the proposed Suncoast Connector toll road from Citrus County through Jefferson County.
Your voices have helped in this fight! See the link below to the Final Report from the Suncoast Connector Task Force. Importantly, the report states that: "The Task Force did not reach a conclusion, based on the information available at this time, that there is a specific need for a completely new greenfield corridor or modifications of existing facilities through the study area . . . "  
The Multi-use Corridors of Regional Economic Significance Program (M-CORES), was approved by Gov. Ron DeSantis in May 2019. M-CORES authorizes the design and construction of three new toll road corridors through rural Florida. Of greatest concern to Tall Timbers is the proposed 150+ mile Suncoast Connector, extending from Citrus County to Jefferson County.
The proposed Suncoast Connector toll road corridor would provide a direct link between the Red Hills and the Florida Turnpike in Central Florida. The proposal includes planning for the provision of water, sewer and other infrastructure to encourage growth in rural areas.
Our Concerns
The M-CORES program, which includes the proposed Suncoast Connector toll road, passed through the Florida Legislature at breakneck speed with little review or analysis. Tall Timbers has a number of concerns given the potential for significant and widespread impacts.
Urban sprawl
Construction of the Suncoast Connector will fragment or degrade private and public conservation lands and wildlife habitat. Providing water and sewer infrastructure far from existing rural communities will encourage additional sprawling growth.
Water resources
Construction of the roadway corridor will alter the flow of freshwater across the Big Bend, affecting rivers, wetlands, and estuaries and impacting a highly productive Gulf fishery.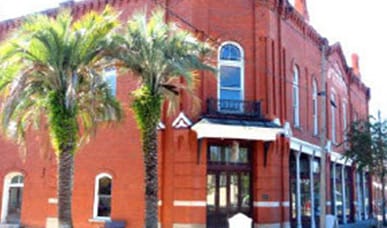 Economic impacts to rural downtowns
The proposed Suncoast Connector toll road will be a limited access roadway, which would require bypasses around rural communities like Monticello. This would reduce traffic to local businesses and affect local economies throughout the US 19 corridor.
Prescribed fire
The toll road corridor will create another challenge to the use of prescribed fire, which is critical for ecosystem health and wildfire mitigation.
What is Tall Timbers doing?
We are consulting with The Southern Group on strategies to protect the conservation features of our region, meeting with Suncoast Connector Task Force members and other key leaders throughout the process, and engaging in outreach and education efforts.
Working in collaboration with expert partners on key issues, we also seek to bring forward relevant information for decision makers. The following reports and resources include useful content for Task Force members and advocates.
Suncoast Connector Task Force
The Suncoast Connector: What We Still Need to Know
A July 2020 report by Florida TaxWatch found the Suncoast Connector to be a "risky project with what is sure to be a large price tag [$4.0 B to $10.5 B] and little demonstrated transportation need." If projected revenues fall short, tolls paid by drivers on other parts of the Turnpike will subsidize this unnecessary road.
Vulnerability of the Suncoast Connector Toll Road Study Area to Future Storms and Sea Level Rise.
An April 2020 report by University of Florida researchers Michael I. Volk, Belinda B. Nettles, and Thomas S. Hoctor looking at the vulnerability of the potential toll road corridor.
Potential Ecological Impacts of the Proposed Suncoast Connector Toll Road
A July 2020 report by University of Florida researchers Thomas S. Hoctor and Michael I. Volk indicating that the proposed Suncoast Connector toll road could have significant and lasting impacts to critical habitat, water resources, and imperiled species in one of Florida's most rural and ecologically intact regions.
M-CORES: A Detour Around Accountability
An August 2020 report by 1000 Friends of Florida and the Sierra Club focusing on financial and procedural issues associated with the M-CORES toll roads. It draws attention to the lack of ongoing gubernatorial and legislative oversight for a project that could cost upwards of $26.4 billion over the next decade, without any preliminary determination of need or financial feasibility.
Read the article from the Monticello News highlighting the Jefferson County Commission adopting a resolution opposing the Toll Road
Does Jefferson County Need a Toll Road?
Take a few minutes to listen to these local perspectives on the toll road. Thank you to Citizens for Responsible Government of Jefferson County and the Jefferson Progress & Preservation Committee for working on these videos.
Will a toll road help the Jefferson County economy?
Tall Timbers supports sustainable economic growth, but we oppose the new toll road in Jefferson County. We are concerned about our water resources, wildlife habitat, the ability to use prescribed fire, and impacts to rural downtowns.
Why are Jefferson County citizens resisting a toll road?
See why locals want to protect their rural community, the Aucilla & Wacissa watershed, and why Jefferson County is home.
1000 Friends of Florida M-CORES Overview
This in depth website by 1000 Friends of Florida provides natural resource maps, webinars, media coverage, a project timeline, and detailed citizen primers on various aspects of the toll road project. You can also link directly to the Suncoast Connector Natural Resources Citizen Primer or the Overview Primer.
M-CORES Proposed 

Timeline
July 1, 2019: The "M-CORES" Act takes effect.
August 1, 2019: The Secretary of FDOT shall appoint the members of the three corridor task forces.
November 15, 2020: Each task force shall submit its final report to the Governor, the President of the Senate, and the Speaker of the House of Representatives.
December 31, 2022: To the maximum extent feasible, construction of the projects shall start no later than this date.
July 1, 2030: The corridors shall be open to traffic no later than this date.
What can you do?
Make sure you are signed up to receive Tall Timbers updates and requests for action related to the Suncoast Connector Toll Road issue.
Thank you for helping protect our irreplaceable natural resources and distinctive rural communities. Sign up here for updates.