ARCHIVES
For past issues of the Tall Timbers eNews, visit the eNews archives, visit the eNews archives.
MAILING LIST
Tall Timbers eNews is a digital newsletter published quarterly. To receive email notice when there is a new issue Join Our Mailing List
Special Edition | October 10, 2013
Tall Timbers Field Days Just Weeks Away
Have you registered?
Fall Field Day at Nonami Plantation
Friday, October 25 • 7:30 AM – 1:00 PM
Nonami Plantation | Near Albany, Georgia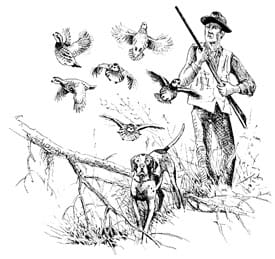 Nonami Plantation will host the 2013 Fall Field Day on Friday, October 25. Nonami is a 9,000-acres quail hunting plantation on the Flint River, just south of Albany. GA. The property is owned by Ted Turner and managed by Ray Pearce. It has a high Intensity quail management program and is one of the premier places in the Albany area.
At Fall Field Day, the outlook for the 2013/2014 quail hunting season will be discussed as well as other land management topics and the results from our recent quail research. A field tour of the property will be followed by lunch. Check-in and late registration begin at 7:30 AM. The field day adjourns at 1 PM.
Download a PDF file of the Registration Brochure here.
---
Field Day at Black River Plantation
Friday, November 1 • 7:30 AM – 1:00 PM
Black River Plantation | Georgetown County, SC
Black River Plantation is a 1500-acre property in Georgetown County, South Carolina located on the outer banks of the Black River. This is an exquisite prop¬erty steeped in tradition with a magnificent plantation house listed on the historic National Registry and long-term habitat management goals of restoring native Longleaf Pine ecosystems. Recent land management efforts have focused on the conversion of Loblolly timber stands to native Longleaf and reclaiming forested uplands to quality bobwhite habitat.
Today, Black River is a prime example of how one can overcome challenges often faced outside the tradi¬tional quail belt to successfully produce bobwhite habitat. The dedication to bringing back bobwhites on Black River Plantation is obvious and unparalleled. Come join us as we discuss their management success and enjoy the rich tradition of Black River Planation!
Download a PDF file of the Registration Brochure here.