ARCHIVES
For past issues of the Tall Timbers eNews, visit the eNews archives.
MAILING LIST
Tall Timbers eNews is a digital newsletter published quarterly. To receive email notice when there is a new issue Join Our Mailing List
Vol. 4 | No. 3 | April 2011
Miss Kate was one of the first landowners in the Red Hills to build guest housing for some very special wildlife
By Jim Cox, Vertebrate Ecologist
The construction needed to widen U.S. 319 could not avoid going through the territories of two families of Red-cockaded Woodpeckers. To make the road safer for travel between Tallahassee and Thomasville without harming woodpeckers, eight sites were selected where artificial cavities would be used to offset the loss of woodpecker territories attributable to road building. Miss Kate allowed two of the sites to be constructed on her property, and one of the sites was occupied quickly by a new woodpecker family.
Since that time, artificial cavities have been used to increase the regional woodpecker population on several scores of properties with Safe Harbor agreements. The agreements allow those landowners who are interested in increasing woodpecker numbers to do so without incurring additional restrictions. At Pebble Hill Plantation, another property that figures prominently in the Ireland legacy of the region, the woodpecker population has nearly quadrupled from two territories to eight, thanks to the fine timber management practiced on the property and the judicious use artificial cavities.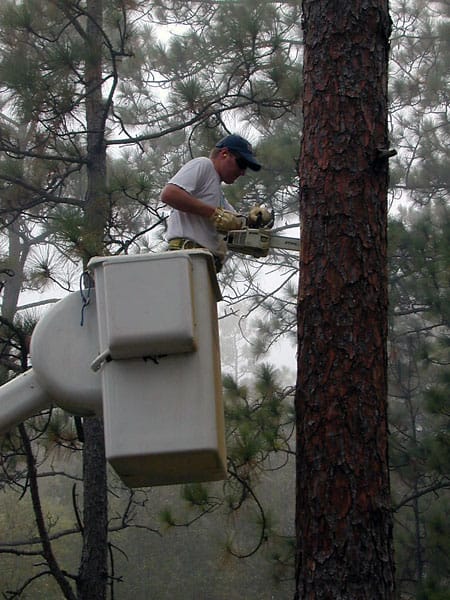 Tall Timbers biologist, Greg Hagan, prepares pine tree for artificial cavity insert.
Safe Harbor agreements also provide landowners who are not interested in woodpeckers with special assurances. If there are no woodpeckers when the agreement is signed, the landowner is under no obligation other than to burn the property regularly. If woodpeckers ever show up, the property is no liable for maintaining habitat. With this flexibility, it's no wonder that properties enrolled in the program now extend over nearly 130,000 acres in the Red Hills region. It's the largest land-conservation program going in the area.
A final benefit comes in the form of assistance for beneficial land management activities. Over the past five years, nearly $375,000 has been provided to local landowners for planting longleaf, burning, brush control, and herbicide usage. The funding tends to come and go, but has certainly helped many landowners improve the look of their woods.
ARCHIVES
For past issues of the Tall Timbers eNews, visit the eNews archives, visit the eNews archives.
MAILING LIST
Tall Timbers eNews is a digital newsletter published quarterly. To receive email notice when there is a new issue Join Our Mailing List