ARCHIVES
For past issues of the Tall Timbers eNews, visit the eNews archives.
MAILING LIST
Tall Timbers eNews is a digital newsletter published quarterly. To receive email notice when there is a new issue Join Our Mailing List
Fall 2017 | Vol 10 | No 4
Tall Timbers Publishes New Book on George M. Sutton and His Paintings for Georgia Birds
George M. Sutton (1898–1982), an esteemed ornithologist, was also one of the preeminent bird artists of the Twentieth Century. He was asked by his friend Thomas D. Burleigh, who worked on his manuscript for Georgia Birds during the 1940s and '50s, to provide the illustrations. Sutton painted a series of individual portraits of a select group of Georgia birds shown in their natural habitats. Sutton arranged to spend the spring and summer of 1952 with his friend Herbert L. Stoddard at Stoddard's Sherwood Plantation in southern Grady County. They made a field trip to the Georgia coast near Savannah and Brunswick to study shore birds. Otherwise Sutton sought, studied, and painted birds in Stoddard's backyard. Sutton described his experiences with Stoddard and his Meridian Road neighbors in an affectionate essay in the front matter of Georgia Birds, and in charming one-paragraph vignettes for each painting. Sutton gave the original Georgia Birdswatercolors to Stoddard whose son later donated them to Tall Timbers, and are part of the Stoddard Collection. There will be an exhibit of the original paintings in the Beadel House Webster Art Gallery at Tall Timbers. The exhibit opens on Sunday, November 19 from 2:00–4:30 PM. and continues until February 28, 2018, during gallery hours.

Burleigh's Georgia Birds was published in 1958. Sutton was disappointed in the reproduction of the colorplates in Georgia Birds as a result of the engraving process used. Robert L. Crawford and Rosalie Rodriguez have collaborated on a new book, George M. Sutton's Watercolors for Georgia Birds: A New Look, which features the paintings beautifully reproduced and Sutton's original essay and vignettes. The hardcover book, published by Tall Timbers Press, is 10 x 12 inches, 96 pages, and will be available for purchase at the exhibit opening, November 19 and on our website November 27. The cost is $35 plus tax, and shipping and handling if mailed.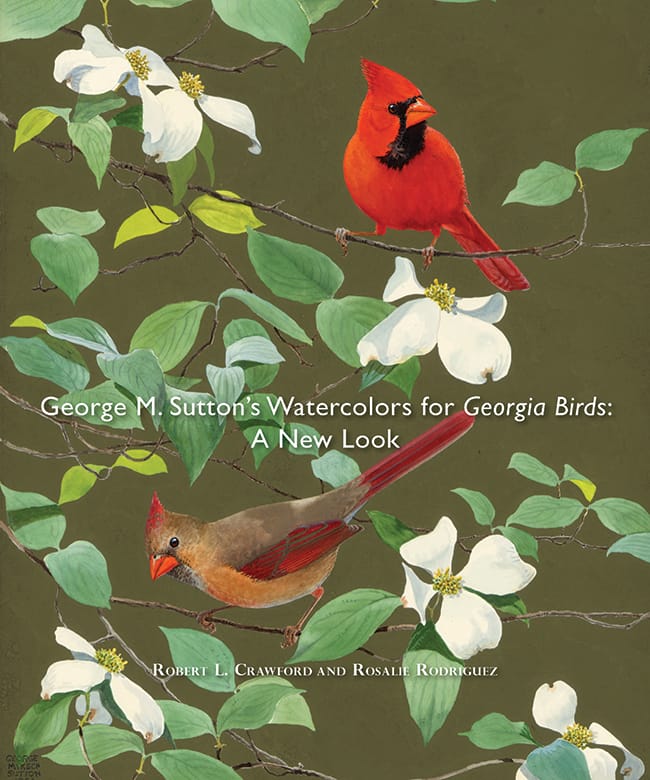 ARCHIVES
For past issues of the Tall Timbers eNews, visit the eNews archives, visit the eNews archives.
MAILING LIST
Tall Timbers eNews is a digital newsletter published quarterly. To receive email notice when there is a new issue Join Our Mailing List