ARCHIVES
For past issues of the Tall Timbers eNews, visit the eNews archives, visit the eNews archives.
MAILING LIST
Tall Timbers eNews is a digital newsletter published quarterly. To receive email notice when there is a new issue Join Our Mailing List
April/May 2014 | Vol 7 | No 2
The Greater Red Hills Awareness Initiative
Celebrating and conserving one of "America's Last Great Places"
By Georgia Ackerman
The Greater Red Hills Awareness Initiative was launched last November at Tall Timbers with the overarching goal of broadening public awareness about the matchless, revered American landscape known as the Red Hills. This public awareness about the ecology, history and culture of the Red Hills begins at home with us, the residents of the Region. For example, did you know that we live in a place designated by The Nature Conservancy as one of "America's Last Great Places?" This eco-region stretching from Thomasville to Tallahassee, nicknamed the land between two rivers, is rich in biological diversity, historic resources, and scenic beauty and public recreational opportunities. Can you name our two rivers flowing to the east and west of the Region or perhaps, where these rivers begin or end? Correct! Both Ochlockonee and Aucilla rivers originate in Georgia and meander to the gulf serving as a lifeline between coastal and northern wild lands.
2013 map of Plantations and protected lands within the Red Hills and Southwest Georgia regions. Map by Kim Sash.
Over the past few months, Tall Timbers, along with other organizations and community leaders from Georgia and Florida, has worked collaboratively to communicate more fully on existing public outreach activities and plan some new, exciting awareness events and undertakings. It seems that there are limitless choices to help us celebrate the history, culture, and ecology of this enchanted place in which we live. Additionally, here are a just few new opportunities evolving in the coming weeks planned by Initiative partners:
Exploring the Red Hills blog in the Tallahassee Democrat with writers sharing stories about a favorite regional experience;
Red Hills Speakers Bureau with experts in fields of history, culture, and ecology of our Region; and
Red Hills Second Saturday series with guest educators at rotating venues throughout the Region.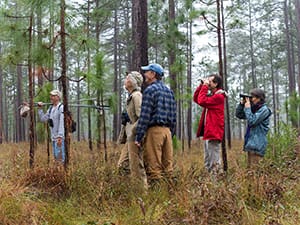 By increasing awareness and appreciation for the remarkable resources of our distinctive landscape, we can simultaneously celebrate and conserve what makes the Red Hills Region truly unique.
Want to keep informed on these Red Hills happenings? Just send an email to the Greater Red Hills Awareness Initiative (email gackerman@ttrs.org). You will be added to the Greater Red Hills Happenings newsletter. Also, watch Tall Timbers' Facebook posts at https://www.facebook.com/pages/Tall-Timbers-Research-Station-Land-Conservancy/57228229834
Georgia Ackerman is Project Manger of the Greater Red Hills Awareness Initiative at Tall Timbers Research Station and Land Conservancy. She greatly enjoys exploring the trails and waterways of the Region. Georgia can be reached at gackerman@ttrs.org or 850-893-4153, ext 345.
---
Recent Sustainable Tallahassee story in Tallahassee Democrat
http://blogs.tallahassee.com/community/2014/02/27/greening-our-community-whats-so-special-about-the-red-hills-region/georgia-ackerman-photo-tall-timbers-feb-2014/