ARCHIVES
For past issues of the Tall Timbers eNews, visit the eNews archives, visit the eNews archives.
MAILING LIST
Tall Timbers eNews is a digital newsletter published quarterly. To receive email notice when there is a new issue Join Our Mailing List
Spring 2018 | Vol 11 | No 2
New education project provides virtual forest tours
eorgia learn more about the important role of working forest lands for conservation and the economy. Association leadership invited Tall Timbers to be part of the project and help highlight the vital role of prescribed fire and wildlife management.
The virtual forest tour project focuses on fourth through sixth grade students and will include videos, interactive web pages, and teacher guides. Producer Gloria Camacho and the film crew visited Tall Timbers in March and April to capture footage of prescribed fire and interview staff members. On their most recent visit, the virtual forest tour host Chelsea Phillips Tafoya joined the group and was ecstatic about the opportunity to work with Eric Staller on the ignition of a prescribed fire. This was Chelsea's first experience with prescribed fire, and she was amazed with both the control and beauty of it. Celebrating another lap around the sun, Chelsea exclaimed "best birthday ever," as she ignited a flanking fire along the burn unit.
Brian Wiebler, Outreach & Education Coordinator at Tall Timbers, will continue to coordinate with the production team as the project takes shape over the coming months. Georgia Public Broadcasting and the Georgia Forestry Association will launch a campaign in 2019, to promote use of the new virtual forest tour materials in schools statewide.
Production Album
Photos by Brian Wiebler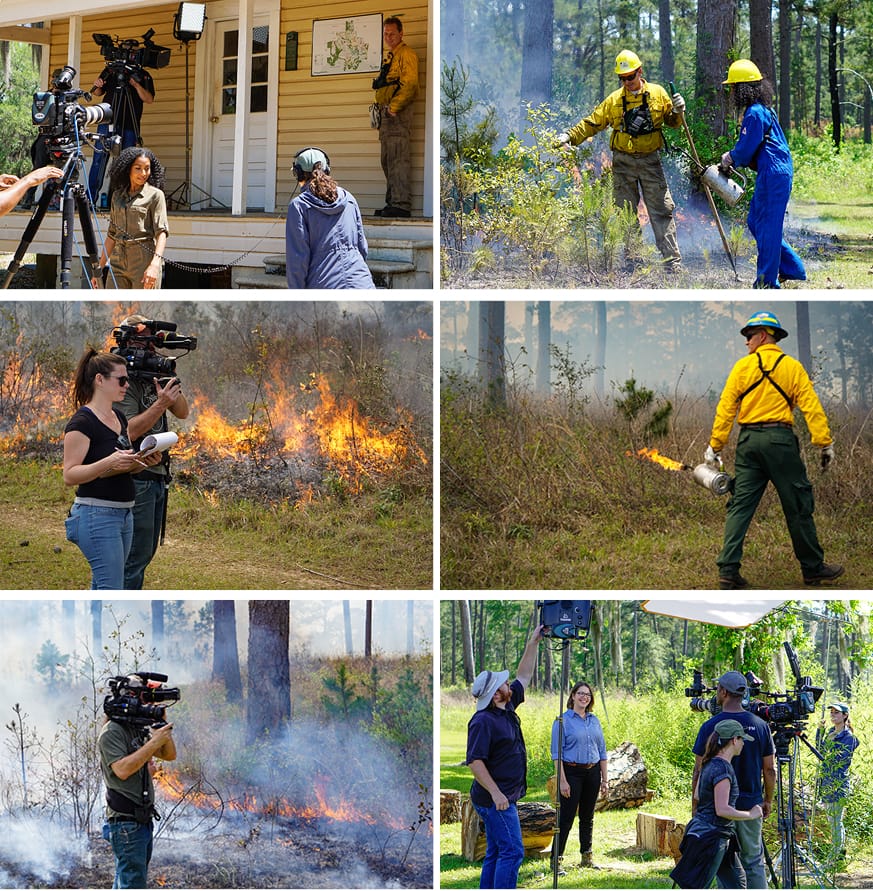 Photos clockwise from top left: Eric Staller, Natural Resource Coordinator and Land Manager at Tall Timbers, prepares for a retake during a segment were he explains the fire prescription for the day to program host Chelsea Phillips Tafoya; Eric Staller, Natural Resource Coordinator and Land Manager at Tall Timbers, explains how fires top kill some woody vegetation; Kevin Hiers, Wildland Fire Scientist at Tall Timbers, prepares for ignition while explaining heat release from vegetative fuels; Monica Rother, Fire Ecologist at Tall Timbers, holds for lighting adjustments during her interview about studying fire history through tree rings. A camera operator takes in a flank fire during a prescribed fire at Tall Timbers. Producer Gloria Camacho directs filming of a prescribed fire at Tall Timbers.