ARCHIVES
For past issues of the Tall Timbers eNews, visit the eNews archives.
MAILING LIST
Tall Timbers eNews is a digital newsletter published quarterly. To receive email notice when there is a new issue Join Our Mailing List
Spring 2015 | Vol 8 | No 2
Prescribed Fire Training Center reaches burning milestone
The National Interagency Prescribed Fire Training Center (PFTC) reached an historic milestone on April 16, 2015, with its one millionth acre prescribed burned. Begun in 1998, the Center has been training students from around the globe, offering experiential learning through the hands-on application of prescribed fire throughout the southeastern US. Tall Timber's provides the Fire Training Specialist at the Center, as well as orientation field trips during the 20-day sessions.
The two modules this April that helped surpass the million-acre achievement were comprised of federal employees from the US Forest Service, the US Fish and Wildlife Service, the National Park Service, a state employee from Pennsylvania and PFTC's first-ever attendee from Italy.  On the day the mark was made, the teams were burning at Arthur R. Marshall Loxahatchee National Wildlife Refuge in Boynton Beach, Florida, and Allen David Broussard Catfish Creek Preserve State Park in Haines City, Florida.
PFTC has trained over 2,100 wildland fire professionals and resource managers in the importance of ecologically-managed prescribed fire. Attendees have participated from all the federal land-managing agencies, as well as numerous state agencies, the Department of Defense, non-governmental organizations, and private companies. There have been students from 49 of the 50 states and 17 countries outside the US. Though the Center does not have any land it manages, it has cooperating agreements with federal and state agencies, as well as with universities and NGO conservation entities, such as Tall Timbers, that allows the training modules to burn at over 250 sites across the southeast.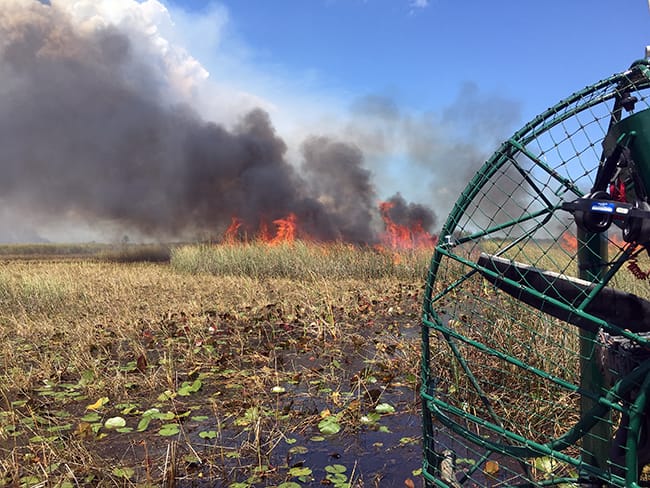 Team 1 burning at Arthur Marshall Loxahatchee National Wildlife Refuge by airboat.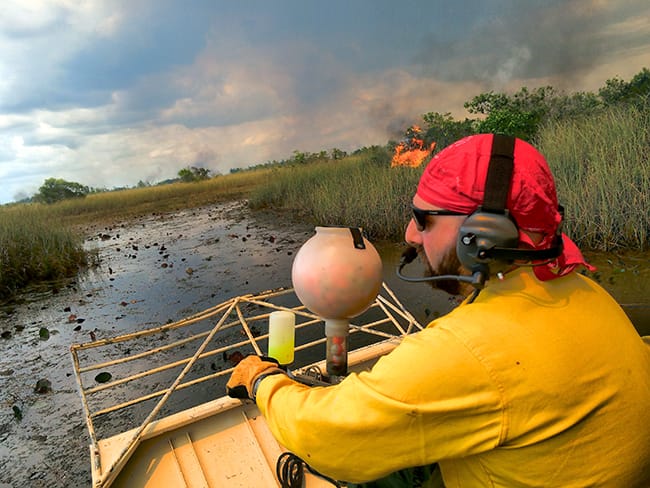 Stefano Macrelli, from Italy, igniting the sawgrass marsh from an airboat at Loxahatchee NWR.
Team 2 Field Coordinator John Cataldo, from Yellowstone National Park, moves a FL box turtle during a burn with the Northwest Florida Water Management District.
Team 2 burning at Catfish Creek Preserve State Park.
ARCHIVES
For past issues of the Tall Timbers eNews, visit the eNews archives, visit the eNews archives.
MAILING LIST
Tall Timbers eNews is a digital newsletter published quarterly. To receive email notice when there is a new issue Join Our Mailing List