ARCHIVES
For past issues of the Tall Timbers eNews, visit the eNews archives, visit the eNews archives.
MAILING LIST
Tall Timbers eNews is a digital newsletter published quarterly. To receive email notice when there is a new issue Join Our Mailing List
Winter 2018 | Vol 11 | No 1
Old longleaf pines will assist with tree-ring study of historical fires
Members of the Fire Ecology and Wildland Fire Science Programs at Tall Timbers recently collected tree-ring data from old live trees on the Lathrop Bayou Tract, Florida. The team included Monica Rother (Fire Ecologist), Kevin Robertson (Fire Ecology Program Director), and Saunders Drukker (Wildland Fire Science Technician). The Bureau of Land Management owns the tract, which is located on a small peninsula in the panhandle of Florida. Access is limited because private land on the eastern side prohibits access to the western side, except by boat. This research was conducted with assistance from Dann Childs of Tyndall Air Force Base and Melanie Kaeser of the US Fish and Wildlife Service.
Kevin Robertson and Monica Rother of the Fire Ecology Program after a short boat ride to Lathrop Bayou Tract. Photo by Saunders Drukker.
Sampling efforts targeted older looking longleaf pines, with flat tops or thick upper branches. We used increment borers to extract a pencil thin sample of wood from each tree of interest. This sampling method does not harm the live tree and allows the researcher to not only learn the tree's age, but also to examine tree-ring patterns throughout the life of the tree. Most trees in a given location will exhibit similar patterns of narrow and wide rings related to year-to-year variability in climate, including periods of drought and abundant rainfall.
Kevin Robertson director of the Fire Ecology Program enters a flatwoods site known as the Lathrop Bayou Tract. Photo by Monica Rother.
In all, we cored 19 longleaf pine on the Lathrop Bayou Tract and two additional slash pine growing at a nearby location. The cores were placed in paper straws and transported back to Tall Timbers for processing and analysis. Fire Ecology interns Joshua Faylo and Dylan Lockard are now assisting with the mounting, sanding, and tree-ring analysis of the cores.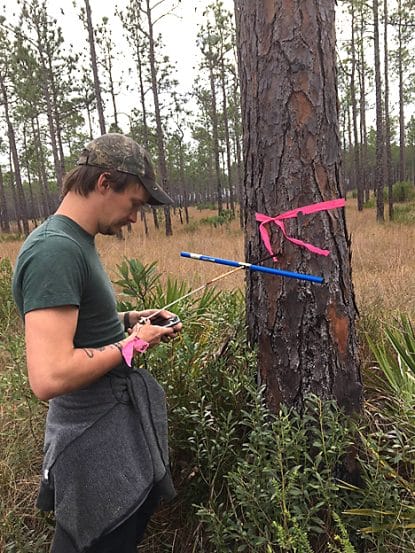 At left, Wildland Fire Science technician Saunders Drukker uses an increment borer to collect a pencil-thin sample of wood from a living longleaf pine on the Lathrop Bayou Tract. Photo by Monica Rother. At right, a tree core from an old longleaf pine sampled on the Lathrop Bayou Tract. Photo by Monica Rother.
Once processed, we will use the tree cores along with previously collected wood from dead trees to build a multi-century site-level representation of annual tree-ring width patterns. This record, known as a tree-ring chronology, is needed to date fire-scarred stumps that were collected in October of 2017. See: http://talltimbers.org/news/news.php?news_id=644 . Monica Rother, Kevin Robertson, and Jean Huffman (Tall Timbers Research Associate), will ultimately use the fire scars in the stumps to learn about the historical frequency and season of fires for the study area. This research complements similar work led by Jean Huffman on the St. Joseph Bay State Buffer Preserve.